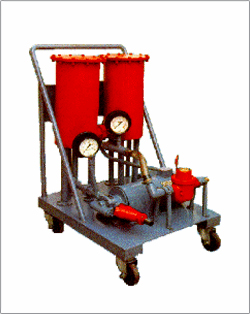 We offer following models for Purification of diesel and new as well as used lubricating oils.
Diesel Filteration Cart
Three in one system that lets you win the war against dirty diesel, costly down time and high oil consumption.
Portable Oil Filter Unit
Portable trolley for pumping & filteration of diesel, lubricating oils and chemicals
Centifugal Lube Oil Filter Cart
Portable trolley for removing particulate contamination from used engine and hydraullic oils.